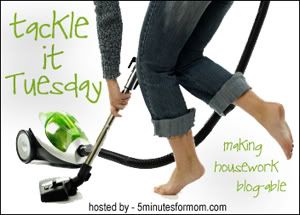 My tackles so far this week are minor as far as actual housework goes, but huge mentally. First was the kitchen. See how my counter tops are free and clear of clutter?
That's because it's all over here.
Poof! Gone! And all in it's proper places! This is a constant problem for me. I just toss things in the room they belong in (if that) and move on. Definitely a habit I have to break while at home.
Next, and more in the "mental tackle" category, is I started Deuce's ABC book! First, I didn't have a place to work. My future craft room is what it is. The future craft room. So this is a card table with the start of this really cute book from Creative Memories (product seems to have been discontinued, sorry). Can't wait to share when it's all done.